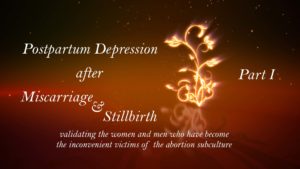 For my regular subscribers, you will have to bear with me for a little while as this is something I am learning about and going through and I feel it is something that needs to be shared for the emotional well-being of a multitude of women as well as men who are the unfortunate, silent victims of this terrible and politically inconvenient form of suffering.
One week ago, I knew that postpartum depression was something that happened to the women who had given birth to living babies. I thought I knew it, anyway. I am about to share something that may shock you as much as it shocked me. For the record, I don't take kindly to people trying to interpret my dreams and have never had anyone ever give me something that I didn't already know or was just flat out wrong. So please just don't. I am not giving all the details or all the interpretation – just what is necessary.
I had one of my house dreams, but this dream was unlike any I had ever had before. The house, from my view of the inside, was white and beautiful. It had three stories, with beautiful balconies. Now, every other "house" dream I have had showed a lot of damage, much work to be done – done by me. As in real life, God shows us things about ourselves that we need to work on, and then we need to get to work. Every one of these dreams has preceded some sort of blow to my ego as He shows me that I am really not all that and a bag of chips. This dream was completely different – I couldn't see the problems, but a professional contractor was making major renovations. I didn't have to do a thing.
As I went through the house, a house that I was moving into, I found a file drawer, and in it were the files of the woman who had lived there previously. I went looking for her, not wanting her to forget her private things only to find her outside with her husband and kids, but rather set apart from them. Her kids were reading from a scientific journal with their father and they gave the article to me. I was joking that these should be my kids because I am a scientist and I would love to read science articles with kids who enjoy that sort of thing. I started reading the article and it was about postpartum depression, which I wasn't really interested in until I noticed it was the story of two women who had it – the mother of the two boys I was with and myself. The story said that I had postpartum depression.
I woke up confused. It was a house dream, but this was a ridiculous dream. I had a bunch of miscarriages between 1999 and 2003, but never a live birth – I could not possibly have postpartum depression. I dismissed it, even though I have never ended up having a house dream that wasn't a huge harbinger for change.
It was about ten o'clock in the morning that the overwhelming grief hit me like a freight train out of nowhere. It was as though I had gone back in time seventeen years to the loss of our third baby in an instant. It was like all those years in between had vanished and the pain was back, raw and ferocious as ever.
****
We lost our first baby a few days before Mother's Day 1999. I was almost 30 years old and getting pregnant hadn't been difficult. As it turned out – it was staying pregnant that was difficult, or rather, impossible. I didn't know it then, but a spinal cord problem, coupled with a back-flipped and deformed uterus, and a body that only makes two days worth of progesterone a month – well, my ovaries worked, but my womb itself was not capable of supporting life and never had been.
The first miscarriage was grueling, I was in labor off and on for about two months – a constant and cruel reminder that my baby was dead (as if having to sit through a Mother's Day service in Church the very week that I lost the baby wasn't bad enough). But once that passed we were quickly pregnant again, lost that baby as well and by my original due date in January – we had conceived and lost yet another child.
I cannot express to you the depths of my grief. My grief was deep and intense and the attitudes of the people around me were almost always ambivalent, and often cruel. People who railed against the inhumanity of abortion based upon it "stopping a beating heart" gave no thought to saying, "Well, at least it wasn't a real baby."
"It's probably a blessing, the baby was probably retarded or deformed."
"You are obviously cursed, God gives a quiver-full to the righteous."
"Why are you so upset? It was just a miscarriage!"
"You need to relax, your stress is killing those babies!"
"You need to be grateful that you never got to hold them, it would be worse to lose them after birth."
"Hmmm… have you considered praying about this?"
"You need to remember that God is good and be grateful for what you have."
"You want kids? How about you take mine off my hands for a day?"
"I am just speaking the truth in love: You are miscarrying because of unrepentant sin in your life."
The pain that I felt from the death of my precious little ones was horrible enough, breaking my heart to pieces, but these horrible comments from believing women were destroying me psychologically as well. I felt as though my life was being quickly and systematically dismantled.
For some reason, and I actually know some of the reasons – people don't want us to mourn and so they try and shame us. One of the reasons is the abortion culture – this reason explains why pro-abortion individuals cannot afford to have compassion for people who have miscarried or given birth to stillborn children. They can neither politically nor emotionally acknowledge the humanity of the situation and the actual loss of a real life. We have to have lost a fetus, a sub-human, a potential life — not an actual child. This has resulted in a callous disregard for a huge segment of the population which has been forced to suffer in silence – we are the unreported casualties of the abortion culture. We dare not be named or acknowledged – it would be political suicide to do so. We are expendable, cannon fodder in the drive to make all abortion as available and as guilt free as possible.
But what of the pro-life people who can be are are often even crueler – because their comments often throw God into the mix, undermining what is often our only refuge in the time of our greatest distress? They say they care for life but the truth of the matter is that most of them are simply offended by sin and cannot bear to really seriously contemplate the real lives lost to abortion. I think that living in an abortion culture has simply destroyed our empathy – we cannot care about the miscarried babies because then we would really have to think about what is being done every single day. So we turned all our feelings of outrage towards the sin of murder; we cannot bear to think of all those real little lives. Again, the silent victims of this are those women who have miscarried and given birth to stillborn children. Being self-righteously offended at sin is easier than doing the hard work of being compassionate and loving. I do not see this changing.
Like I said, I was already dealing with all of the cruelty and loss when my original due date hit in January of 2000 and all of those websites I had registered on – the due date websites, and the parenting websites – all of the congratulation announcements started flooding into my email. I laid on the floor of the nursery and tried to die, but I couldn't. I laid there for about a week, completely alone – even my husband couldn't understand. I didn't even understand.
I had postpartum depression. Like any woman who had given birth to a living child, I had gone through the hormonal changes, I had gone through labor – but unlike a woman who has given birth to a living child and is depressed, I had no happy ending to look forward to. I had, beyond just depression, real death and grief to be dealt with. From the responses I have had on social media over the last day or so – I know that I am not alone. There are legions of us who have been given no name for what ails us, because it is not politically expedient to recognize us at all. No one wants us to exist. We represent an inconvenient truth – our pain is proof of the life and worth of the unborn.
But we do exist. Our babies were precious and wanted, and real. They weren't "just miscarriages."
I will continue this in a few days. I need to have you understand why, seventeen years later, I am still suffering with postpartum depression – why a lot of us are and why we will get through it if we do acknowledge our right, as mothers and fathers, to mourn. If you are suffering, I want you to know why, and that you aren't alone, or overly emotional, or unreasonable. Truly, your grief is a measure of sanity in a world gone mad.