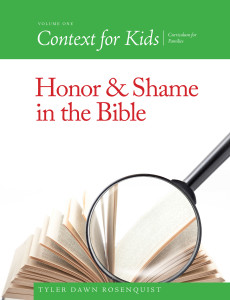 Are you ready for something completely different? How about a homeschooling-type curriculum for the entire family, geared towards the slower pace that kids need but covering the modern Ancient Near Eastern and First Century studies that are all the rage in the scholarly world? How about a Bible Study that treats your kids like scholars and teaches them how to look for and appreciate historical context within the most important Book ever written? Are you interested in becoming an entire family of context detectives, having real dinner table discussions about the world of Abraham, Isaac, Jacob and Messiah? Are you interested in having your kids become passionate about seeking out the treasures of the Bible because they understand the underlying culture?
Can a ten week Biblical Sociology curriculum change your life and your children's future?
Tired of sending your kids out into the world with verses memorized and yet losing them to the faith before they finish college? Let's face it, Atheists, unbelieving Bible hobbyists and even some believing College Professors tell our kids that the Bible was simply made up at a late date to reflect already existing beliefs.
The last 150 years of archaeology have proven the critics wrong but this information is generally not making it into the hands of the most vulnerable of believers – young college students. What if, as a family, you could study – in depth – what the people of the Ancient Near East and First Century knew, how they looked at the world and how they thought and interacted with each other? What if the Bible characters could become real flesh and blood people in the eyes of your children? What if they went out into the world armed with the kind of knowledge generally reserved for serious Bible scholars?
What if I told you that I could do that hard research for you and then present it to your entire family in an easy to understand manner?
Honor and Shame culture is how the ancient world operated – but their definition of words like honor and virtue are not in line with our modern understandings. Today the entire Islamic world operates according to these ancient understandings that Biblical people simply took for granted. Have you ever wondered why the crucifixion was really so brutal? Have you ever scratched your head wondering why Jesus and the Pharisees, Scribes, Elders and Chief Priests were always arguing – or why Nicodemus approached Jesus at night? Why was Saul trying to kill David, and why did Joseph's brothers really hate him so much? For that matter – why do Muslims all over the world today take pride in killing the most defenseless members of society?
Honor and Shame culture is hidden in plain sight throughout the Bible, and understanding that will change the way you read it. Context will change and equip your children – it will change and equip you. After completing this course, you will not only have a foundational understanding of honor/shame culture in antiquity, but you will also understand what we are seeing in the news today regarding Islamic terrorism.
See a sample here.Context-For-Kids-Volume1-pp8-9
Available now at amazon.com in paperback and on kindle. Coming Oct 4, 2015 on youtube are my weekly kid's context videos. Watch for them!
And are you  interested in a Yeshua (Jesus) based family curriculum dedicated to exploring the first five books of the Bible?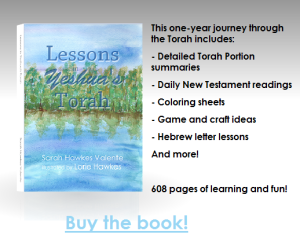 My dear friend Sarah Hawkes Valente has compiled a MASSIVE year long curriculum, taking your family through the Torah portions with lessons, crafts and coloring pages – this is what I call a "mega-mom" book. Like mine, it is great for homeschooling or public schooling families who want to integrate Bible studies into their daily lives.
Sarah has a sample teaching available here – of course, she has "punched it up" considerably for the book. I got a preview file and this is a great resource for families. Click on this link to purchase – workbook available in kindle soon.