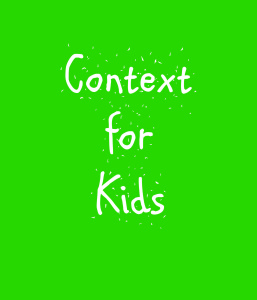 Hey all, just wanted to give everyone a heads up about my newest project. I am working on an Ancient Near Eastern/First Century Scriptural context history/Bible curriculum. Over the next year, I plan to release a series of mini-textbooks that will cover a wide range of subjects.
Why try to teach scriptural context to kids? Well, frankly because they are more open to it and they are at that inquisitive age where they aren't afraid to look into history and dig into the dirt to find out more about the Bible world. I am tired of kids graduating from high school and going off to college only to abandon the Bible and the faith because they get told that the Bible is a book of fairy tales with no historical validity at all. Frankly, they need support, and they need to be well-armed with real archaeology and a real knowledge of why the Bible isn't just a religious manual but an actual historical document.
People who know me, know my two ministry passions are character and context. As much as possible, I want to instill these things into new believers and now I feel I have the opportunity to instill them into the next generation of Bible scholars, ministers, and believers. I believe that the kids in school right now are the pivotal generation – you've probably noticed that they are special, they are different than we were. But they also face more challenges.
Knowing how to study and apply scripture protects our kids from the hinky charlatans out there who talk a good game but are frankly preaching vain imaginations. When people know context, they know when someone is making things up. When people know context, they can defend our Messiah and stand firm behind Him.
I want to teach kids the difference between the way we live, think, and talk in the 21st century and they way they lived, thought and talked in the time of Abraham through the time of Messiah. I want to make Bible context a family effort – which is why so many of my homework assignments take place around the dinner table.
My motto is "Become a Bible Detective." I want kids to enjoy opening their Bibles, looking for familiar elements in the situations they will start seeing not as stories, but as real life accounts.
In the coming weeks, I will be posting sample lessons and giving updates. I hope to have the first 6 weeks of curriculum published by early October. Are you excited? I sure am!
PS – I have it on good account that there will also be some context video series on the way from some of my co-teachers at WIT-Talmidim.  I don't want to let the cat out of the bag, but a certain lady is talking about doing a full Temple series for kids and a certain gentleman is talking about doing some context videos as well. So regardless of whether you like to read or watch or both, there are some exciting developments coming your way.