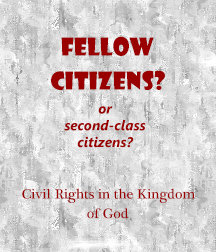 En Espanol here
Sadly, due to a lack of First Century context, Revelation 3:9 has been used for a long time as a "proof text" that somehow the Jews who we see in modern times are not truly Jews at all but this is a dangerous fallacy. In this letter to the ekklesia at Philadelphia, it is written:
"Behold, I will make them of the synagogue of Satan, which say they are Jews, and are not, but do lie; behold, I will make them to come and worship before thy feet, and to know that I have loved thee."
To turn this into a diatribe against all Jews is pure anti-semitism, but fortunately for us, we know historically the identity of the "Synagogue of Satan" – namely, the Pharisees of the House of Shammai.  During the 90 years before the destruction of the Second Temple (may it be rebuilt in our days!) the Sanhedrin council of the Jews (think Supreme Court) was controlled by a group of Pharisees known as the House of Shammai. Unashamedly anti-Gentile, they enacted 18 edicts which were called by their opposition, the more Gentile-friendly House of Hillel, as shameful as the building of the golden calf at Sinai. What was so shameful about these edicts which were so hated that we no longer even have a copy of them? They specifically made it illegal for a Jew to have close dealings with Gentiles, even those Gentiles who kept the commandments and worshiped the God of Abraham, Isaac and Jacob – like Cornelius the Centurion. A Jew could not enter into their house (see Acts 10), nor could they eat at the same table (which was the controversy in Galatia) with someone unless they became circumcised and converted formally to the religion of Judaism. Although Hillel was very favorable to allowing Gentiles to be grafted in to the Body of believers, Shammai was not and these rulings made a literal legal wall of separation. The opinions of the House of Shammai were so distasteful to the first century Hillel Rabbis that Yevamot 16A records an instance of a man calling his own brother the "first born of Satan" for siding with the House of Shammai on an interpretation of law! (see Falk, pg 118)
John, being a Jew, knew this – and Yeshua (Jesus) also used this language throughout the gospels. So that covers the context of the Synagogue of Satan. But the accusation goes further, saying that they aren't even Jews! Where else do we hear that language? From another member of the House of Hillel – Paul – in Romans 2
"25 For circumcision verily profiteth, if thou keep the law: but if thou be a breaker of the law, thy circumcision is made uncircumcision. 26 Therefore if the uncircumcision keep the righteousness of the law, shall not his uncircumcision be counted for circumcision? 27 And shall not uncircumcision which is by nature, if it fulfil the law, judge thee, who by the letter and circumcision dost transgress the law? 28 For he is not a Jew, which is one outwardly; neither is that circumcision, which is outward in the flesh: 29 But he is a Jew, which is one inwardly; and circumcision is that of the heart, in the spirit, and not in the letter; whose praise is not of men, but of God."
Paul states here very clearly that circumcision means nothing if a man is a transgressor of the law, and that if one keeps the law, it is as though he is circumcised. But what does this have to do with Shammai and his followers not being true Jews? Namely this – Torah clearly states that the wall of separation and the edicts of Shammai, and any racism or form of second-class citizenry in the Kingdom of Heaven is a transgression of the Law (Ex 12:49, Lev 24:22, Num 15:16, 29). In addition, it is blasphemy, because it misrepresents the equity and integrity of our great God and King – exalting instead a human bloodline. They were circumcised, but they were seriously encroaching upon the rights of the King to determine the citizenship of His own Kingdom and Paul says that they are "not Jews" and that they are lying to claim otherwise.
As for the rest, we need the context of Acts 10 and the outpouring of the Spirit on the family of the righteous Roman Centurion Cornelius and his entire household. This is very important to grasp because in my opinion we are heading into the latter day outpouring of the Spirit, the likes of which has not been seen in almost 2000 years. Right now we are dealing once more with the very situation that Peter found himself in, in both Acts 10 and Galatians 2. There is rising up a spirit of Shammai once more, just as we are seeing the spirit of Antisemitism growing stronger – they are flip sides of the same bad penny and neither one can be tolerated within the Body.
Now, Peter was raised under the 18 edicts and didn't question them (If you want a fuller workup of this, I covered it in detail in King, Kingdom Citizen) – he really believed it was flat out wrong to go into a Gentile's house (Acts 10:28) and it took a shocking vision from Heaven to even get him to begin to question it. It took an act of the Holy Spirit to get him to see how wrong it was. for when the Spirit fell on non-Jews, Peter had to admit that God was no respecter of persons (Acts 10:34-5) but accepts everyone who fears Him and does righteousness. This was huge for a first-century Jew to admit this and in chapter 11 other Jews have a fit with him over it until they too are presented with the evidence! Paradigms, the mindsets we do not question, are hard to break and this one was REALLY hard to break.
We encounter this mindset again in Galatians 2, where we see that Peter is refusing table fellowship to the former Gentiles in response to peer pressure – years after Acts 10. In fact, as I cover in King, Kingdom, Citizen – Galatians is a book entirely about whether or not Gentiles had to become Jews in order to be accepted as full Kingdom citizens and Paul proved that they did not. The Spirit of Shammai, however, was not going to die easily and we are seeing it again in these last days. Gentiles who have turned their backs on the world, who are keeping the testimony of Messiah and are keeping the commandments of God, are being reduced by some to second-class citizens. They are being told they have no right to keep the commandments at all, or that if they do they must keep them according to the traditions of men. They are being denied an equitable place at the table, and they are being accused of boasting against the natural branches, the Jews, for even suggesting that there is equity between Jew and former Gentile within the Kingdom. They are being shamed because of a lack of pedigree, because of being born into the "wrong" bloodline.
But it is not boasting when one recognizes that God is no respecter of persons, it is instead upholding the honor of God as a God of equity. Boasting happens when one suggests that the Jews have been replaced!  Replaced? May it never be – not replaced but joined together with the former Gentiles into the commonwealth of Israel spoken of in Ephesians 2.
Just as Rosa Parks was not boasting against that white man when she refused to stand up and relinquish her seat, but was standing on the integrity of the Constitution, so those who insist that we are fellow citizens and not second class citizens of the Kingdom of Heaven are not boasting but relying on the integrity of the Constitution of the Kingdom, the Torah.
And this is why I believe we are heading into the second outpouring of the Spirit – because once more we see those who keep the testimony of Yeshua and the commandments being kept apart from the same mindset that Hillel compared to the golden calf. It has to happen, in order for God's honor to be upheld and His equity to be witnessed, the Spirit is going to have to fall equally upon Jew and former-Gentile believer alike, in a public and unmistakable way.
Now back to Rev 3:9b
"Behold, I will make them to come and worship before thy feet, and to know that I have loved thee."
This is not, as some have portrayed it, Jews being forced to worship Gentiles and admit they were right – this is God shaming those who have shamed Him in calling His honor and equity into question, in encroaching upon the rights of the King to determine His own subjects, a Father to adopt children, and a God to reward His worshipers with integrity. This has nothing to do with the former-Gentiles and everything to do with those who would misrepresent His righteous, just, merciful and generous character. God will rectify the insult – again, this isn't about us but about Him. He will shame and put into their place those who have forfeited their citizenship by encroaching upon His authority.
The outpouring has to come, but perhaps not for the reasons we have been taught. I believe it is not merely about imbuing us with power but also about re-establishing His honor and shaming those who would, in their zeal to promote their own bloodlines, blaspheme His character.
Falk, Harvey "Jesus the Pharisee: A New Look at the Jewishness of Jesus" 1985 – specifically chapter 7