It really chaps my hide when believers post hoaxes about our Savior, especially ones that are easily knocked down by anyone who knows even a little bit about the historical context of the first century.  This link (his_letter) will take you to a ludicrously falsified letter purportedly from Pontius Pilate to Tiberius Caesar, written by a discredited man and published in a discredited book that is still on the market called The Archko Volume.  The writer was convicted of fraud in an ecclesiastical court! If the author had known about Roman culture he would have written it entirely differently, but he assumed that Christians would be so overcome by the blue-eyed blonde haired Gentile-ish Jesus that they would not ask any questions.  For the most part he was right, but actual scholars were quick to knock him on his tuchus.  I read this back in 2004 while I was a Pentecostal and right away I knew something was wrong but I lacked any knowledge of the historical realities of the Imperial Cult of Rome.  I recently revisited it because I saw several people posting it and with my current knowledge I saw right away what was wrong with it.  I will mention only a few.
.
Now, I say if he could do all these things, which he did and many more, as the Jews all testify, and it was doing these things that created this enmity against him– he was not charged with criminal offenses, nor was he charged with violating any
law, nor of wronging any individual in person, and all these facts are known to thousands, as well by his foes as by his friends–I am almost ready to say, as did Manlius at the cross: "Truly this was the Son of God."
.
See the part I underlined?  I want to teach you about the Imperial Cult of Rome, from which only the Jews were exempt.
.
Dead Caesars were worshiped as gods and once a year every Roman citizen (and non-citizen) was required to make a sacrifice to them, in public. Being polytheists, the people didn't really care and they all did it — except for the Jews, they refused and would revolt every time it was pressed. This was very distressing to the Romans, who had never met with such resistance on such a thing and in the end a deal was struck; Jews would pay a special tax and be exempt.
.
Now, Tiberius, like a few other Caesars, made up coins declaring himself to be the "son of god" because his "father" Octavius had already been deified by the Senate.  Ever wonder why Yeshua (Jesus) made the comment about giving to Caesar what is Caesar's and to God what is God's?
.
Mark 12:14-17 And when they were come, they say unto him, Master, we know that thou art true, and carest for no man: for thou regardest not the person of men, but teachest the way of God in truth: Is it lawful to give tribute to Caesar, or not?

Shall we give, or shall we not give? But he, knowing their hypocrisy, said unto them, Why tempt ye me? bring me a penny, that I may see it.

And they brought it. And he saith unto them, Whose is this image and superscription? And they said unto him, Caesar's.

And Jesus answering said unto them, Render to Caesar the things that are Caesar's, and to God the things that are God's. And they marvelled at him.
.
What is the back story here?  I told you that they had to pay a tax to be exempt from this sacrifice to dead Caesars, and there were the Pharisees who believed they should go on paying the tax so as to refrain from idolatry, and the Herodians, who were Roman lackeys and would have probably just loved to sacrifice in order to not pay extra taxes (which is why they were mentioned in verse 13).  That was the real question, would Yeshua promote idolatry or not?  Either way He answered, one of the sides was ready to pounce – the Herodians would scream rebellion or the Pharisees would scream idolatry. So Yeshua took the coin and looked at the "son of god" inscription and pretty much made it clear to them that by even possessing the coin, they were already accepting Tiberius as the son of god and if they wanted to give to God what is rightfully His (sacrifice and worship) then they should give Caesar back the money that says that he is the son of god.  So the tax was upheld as a way to satisfy both parties and break no Torah law. In other words, by giving up the money in the form of this tax, they were throwing the profession of divinity back in Caesar's face. Hope that makes sense.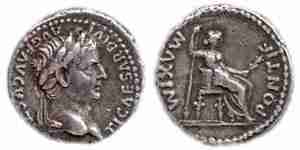 So what does that have to do with the aforementioned letter?  Pontius Pilate was required to worship Caesar as a god, and serve Tiberias as the son of god.  The penalty for not doing so was death — just ask the early Christians once they made the break with Judaism in the second century! Once the split happened, they were no longer able to pay their way out of the requirement to sacrifice once a year to these false gods.  Many caved in and many died.  To even propose that Pontius Pilate would dare to suggest that he was almost ready to say that Yeshua was the Son of God would be a treasonous offense.  He would have been executed.  It is an absolute impossibility. And yes, Pilate was a jerk but to hand over the name of his own Centurion who did commit treason by saying it (especially if he commiserated with him)? Great googly moogly, I don't think so.
.
Another problem with this letter is at the beginning — the suggestion that the officials would not eat with Pilate. The priesthood was terminally corrupt, they were buying into the priesthood and weren't even Levites, much less priests.  They were carnal, and believed that there was no resurrection, no final judgment and so they took their rewards in this life – which is why they had no problems with running the corrupt money changer tables on the temple grounds.  They were also murderers.  They weren't the types to feign holiness when there was political power to be had in this lifetime. This isn't Aaron and Phineas here, this was a bunch of pretenders.
.
And let us not forget the physical appearance of Yeshua.  The scriptures themselves prophesied that he would be a man of unremarkable appearance, but Pilate's letter make him out to look like Thor or Captain America.
.
Is 53:2 For he shall grow up before him as a tender plant, and as a root out of a dry ground: he hath no form nor comeliness; and when we shall see him, there is no beauty that we should desire him.
.
It is a Greek-inspired mind that wants to worship a beautiful Man, not a Hebrew.  It is what Valerie Moody calls "my big fat greek mindset." Greeks were obsessed with physical perfection (Socrates was a noted exception to that, and they killed him, go figure).  If Yeshua was beautiful then everyone would have followed Him!  Hey, a man who gives out free food, heals the sick and is drop dead gorgeous?  I'd be first in line!
.
Finally, Messiah claimants were rising up and causing a ruckus at Passover every few years – this wasn't new or unique.  Pilate had seen this happen before, and he usually had to squelch the rebellion that ensued.  He had no reason whatsoever to write to Tiberius about this.  And frankly, given the circumstances surrounding the disappearance of the body — he sure as heck wouldn't want to.
.
There are so many more historical fallacies in this letter that I could write another five blogposts on it, but I prefer to stick with scripture so I am not going to do that.  I simply wanted to address some glaring errors that were easily explained.
.
In the end, if something looks too good to be true, it probably is, and the more it appeals to our excitement and flesh — well, that is exactly how you bait a hook to catch a fish.  And when we post things and don't do our research into whether it is even reasonable or even logical, then some atheist who does know the culture is going to shred us and discount everything we say.  Why shouldn't he?  When we are so quick to believe whatever we see, does he have any reason to take our Bible thumping seriously?