Ever wonder why some people will go to such great lengths to defend, deny and cover up the sins of their ministers? Even if it means hurting innocent people?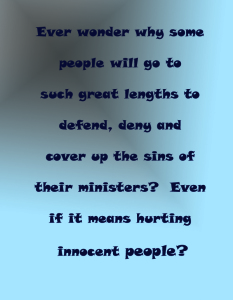 .
I was laying in bed this morning meditating on the chapters in I Samuel that I will be teaching to my sons this morning, when a completely different story about King David came to mind.  Last week, I listened to a teaching from Ryan White about David and all his wives, and how in the ancient near east, a king's acquired honor was elevated in the eyes of the world according to how many wives he possessed.  The scriptural directive was clear, that Israelite kings were not to gather many wives to themselves (Deut 17:17) — in other words, "This is not how you are to go about raising your esteem (honor) in the eyes of the world."  Israelite kings were to be set apart not by the number of their wives, or their wealth, or their horses like pagan kings, but according to the righteousness of God.
.
It got me thinking about something that had always puzzled me — "Why do so many people cover up and defend the sins of their ministers, calling the dishonorable honorable?"
.
David, of course, started out as the youngest son in a very large family. He was a lowly shepherd, so lowly that when Samuel was gathering the sons of Jesse, David wasn't even included. But God chose David, proving that His anointing will find you wherever you are.  David, in his younger years, never exalted himself based on this anointing.  It would appear that he took the promise and believed it to such an extent that he was willing and able to endure anything and everything.  He was willing to fight with Goliath — because he knew he was the future king of Israel, so he couldn't die in the attempt.  He fought battle after battle — because as long as he wasn't sitting as king, he knew his life wasn't going to be over anytime soon.  In the eyes of the people, David was able to earn honor through these mighty deeds and it was his honor that got him in trouble with King Saul.  You see, in ancient near eastern society, there is only so much honor to go around.  If I get more honor, someone else has to receive less.  David's exploits were causing him to be elevated in the eyes of the people, whereas Saul wasn't looking so hot anymore.  Hence, "Saul hath slain his thousands, and David his ten thousands" became the women's song (I Sam 18:7-8) and Saul realized that a regime change was imminent.  Once a king was sufficiently diminished in the ancient near east, it was just a matter of time.
.
David lived an incredibly virtuous life while he was on the run, fighting battles and living in caves, and also in the beginning of his kingship.  But in 2 Sam 11:1 we see something interesting beginning to happen.  The season has come when kings go to war and David remains at home.  It is not written why, so I will not speculate. But David is home while his armies are fighting against the Ammonites, and thus he sees something that will change both his life and his kingship. David is about to decrease his honor in the sight of God, and worse, he is about to do great wickedness in order to keep from decreasing his honor among the people.  And others are going to help him do it.
.
Uriah the Hittite was one of David's mighty men, some of whom had been among those hiding in the caves of Israel all those years as Saul pursued David.  These men were unquestioningly loyal to David; they were amazing warriors who sometimes did insane things for their king.  Now we don't know how long Uriah had been with David, as his name is last in the list given in 2 Sam 23.  Was he the least of them, or was he placed last for emphasis?  I do not know, but I like to think of these men as our equivalent of the Green Berets, the Navy Seals and the Army Rangers all put together.  And because Uriah was such a great warrior and such an honorable man, he had a beautiful wife and a home within sight of the palace roof.
.
David saw her, he desired her, he inquired after her, he sent for her and he committed adultery with her.  That adulterous act resulted in a pregnancy and a bigger problem.  Someone was about to lose their honor — definitely Bathsheba, who would not be able to explain a pregnancy with her husband off at war, but potentially also David, if she identified him as the father.  David had a reputation as a righteous king, and Uriah was one of the great heroes of Israel who was no doubt the subject of many stories around the hearths of Israel.  What young boy in the kingdom would not want to be Uriah the Hittite!  Uriah had honor from great battles and great feats of bravery within those battles; he would have been a national hero.  What happens if the nation discovers that their godly king has defiled the wife of a national hero while the former was tarrying safely at home and the latter was in the mist of the battle?  David was not willing to find out.
.
And so David instigates an elaborate deception designed to get Uriah to think that he, and not David, has impregnated his wife.  But Uriah's honor will not allow him pleasure in the court of David while other men are dying on the battlefield.  When David sees that, unlike himself, Uriah cannot be compromised, he has Joab stage a battlefield murder by proxy.  David literally feeds a loyal hero to the Ammonites in order to retain his reputation.  He takes Bathsheba for his wife and figured everything would be just fine.
.
And he would have gotten away with it too, had God not sent Nathan the prophet to him – delivering what has to amount to the gold standard for stealth rebukes.
.
But I said this was about ministry.  It is.  Ministry also operates on the honor/shame principle.  Whoever has the most honor in the eyes of the people is the person who gets to dictate doctrine, call the shots on how the money is spent – whoever has the honor gets to be the kind of king they want to be.  If the person in charge is righteous and humble, this works well — as with David in the caves.  David was an excellent king when he was on the run; he was always working for the welfare of the people, and even able to accept counsel from the wise wife of a foolish man (I Sam 25).  David was an amazing king when he wasn't wearing a crown, when he was king but not acting like one.  He was a great king when all he had was the anointing and a heart to serve.  And I am not saying that he didn't do great things while he was on the throne, because that would not be true – but I will say that he was a different man and not always a better one.  When David became a king, he became like a king, and kings in the ancient near east took what they wanted and did whatever they had to do in order to keep it.
.
The title of king never made David kingly; his behavior made him kingly.  Once he had the title, he didn't have to prove that he was kingly anymore and perhaps that was his downfall in this matter.  He was king, so he didn't have to go to war anymore, he didn't have to behave honorably all the time, and he didn't have to restrain his desires anymore.  A title can be a crutch, and that's probably a big part of why I automatically suspect anyone who uses one.  A title can tell people what you are so that they don't have to discern it by your actions.  A title is a great distraction.
.
What would have happened if the servant who was sent to go and fetch Bathsheba had instead said, "Oh no my master, do not do this thing against Uriah your faithful servant who is fighting against the king's enemies!  What will you do if the woman becomes pregnant?"  What if he had appealed to David's honor instead of doing what David commanded?  I wonder if David would have relented.  Perhaps not, but at least then the servant would not have blood on his hands. Perhaps David would have killed him and then sent someone else.  Unfortunately, we don't know.
.
Being God's anointed does not come with a license to do whatever one wants to do, nor does it give anyone the authority to enlist others to aid us in our sins. Nathan should not have been the first person to speak up to David, months later.  But this is what happens in churches when we seek to elevate the honor of men instead of the honor of God, when we seek to hold on to our honor at the cost of righteousness. David lost sight of the fact that he wasn't king for the sake of being king, he was king for the sake of being the representation of God's righteousness and justice towards His people.  Many ministers lose sight of the fact that their primary job is not to build a ministry but to represent God's character, according to their calling, in the world.  They are called to be vessels of honor, according to their behavior, not according to the worldy standards of wealth, influence and appearance.  A shiny suit, a fancy car and an international ministry are nothing if we have them at the expense of faithfully representing the character of our King.  But those are the things that people esteem (honor), and so the people "in the pews" will often acquire honor for themselves through association.  Therefore, if the person they follow is diminished, so are they, rendering them all too willing to fight to keep his sins from the public eye.
.
So much betrayal in ministry amounts to nothing more than a pastor perceiving a threat to his acquired (earned through works) and ascribed (by nature of his calling) honor, and seeking to do whatever he can to hold on to it.  But I ask, when did our Messiah ever resort to unrighteous or underhanded acts in order to hold on to His honor? Where were the desperate attempts at damage control when He was being slandered and plotted against (for real)?  Where were the clandestine gossip sessions (disguised as prayer requests), where was the character assassination, and where was the pulling down of others in order to inflate himself?  Messiah showed us that when we are in the right — we have to let the attacks come and let Him be our vindication.  We have to handle everything in a righteous, transparent manner.  And interestingly, when people are in fact innocent they tend to do just that.  It's when people are wrong that they resort to evil methods in order to hold on to their reputations and pull others into a conspiracy to do the same.
.
But when we have dishonored ourselves, the second to last thing we should ever try to do is come to our own defense.  The absolute last thing we should do is to recruit allies in our endeavor to paint our dishonor as honorable. Repentance is the only path that produces good fruit.  If we are on the wrong path, then we should turn around instead of killing anyone who reminds us that we are headed the wrong direction.  We can kill a thousand people, or destroy a thousand reputations, or betray a thousand of the mighty men who have faithfully served us – but we are still facing in the wrong direction.  Our honor is not worth upholding at such a high cost.  Our honor is nothing if we drag the name of our King through the dirt, and especially if we use it as an excuse to teach others to do the same.  And we should never, as followers, protect someone just because we don't want to be embarrassed by the fact that we were allied with them.  It is a pathetic thing, when we really look at it, to protect a person just so that we won't look like fools when their deeds are revealed.
.
Truly, we should never compromise ourselves to the point where the threat of looking like fools will cause us to ignore, excuse, or cover up the sins of another — especially when the cost is even one innocent person's reputation.  And when we do it, we should not fool ourselves into thinking we did it for them.  Truth is, we want to be on the side of righteousness, even if we have to destroy righteousness in order to maintain the illusion.  But it is better to be ashamed and be on the side of truth, than to maintain the illusion of honor through lies.  Admitting we were taken in, and that we were following someone unworthy and walking away is more embarrassing, yes, but it is also more honorable than covering up his sins in the perverse hope that we get to maintain our dignity.  We have to be willing to admit to the world that we were wrong.
.
And so now I have a message to everyone who has been abused by a minister and watched their closest friends rally around the abuser.  You thought it was about you, but it wasn't — it was about a group of people who don't want to admit they are following after the wrong person.  Their egos won't allow them to admit it.  They would rather sin, they would rather ignore, and cover up, and hurt you — not because they love that minister, not really, but because they love being associated with that minister.  They love the "prestige by association," and they think that preserving his reputation protects theirs.  Sadly, you don't even enter into the equation.  And you may feel like that lessens you, but it doesn't.  The truth is that no virtue of ours can overwhelm the senses of a person whose personal illusion of honor is more important to them than real honor.  To side with you meant that they would have to admit that their discernment is lacking, and then they would have to question everything that they have done and been taught.  Most people don't want to do that.  They would rather be fools than look like fools.  No matter how wonderful you are, this is about them not wanting to look at the person they are following with open eyes, and not wanting anyone else in the world to look at them that way either.  You can be the most wonderful person presently on this earth, but you still have no power to command the loyalties of a person who doesn't want their world view challenged.  So be encouraged, and accept the reality that you cannot change it, and be free from that burden.
If you want to hear another excellent teaching on Honor and Shame with respect to David and Uriah, check out this one from Matthew VanderEls – I think he picks it up at the 30 minute point, but the whole message is great