I Cor 13:11  When I was a child, I spoke like a child, I thought like a child, I reasoned like a child; when I became an adult, I put an end to childish ways.
Seems straightforward enough, right?  We grew up, we got jobs, we settled down and started families, and we pay our bills.  So we're adults right?  Maybe not.
.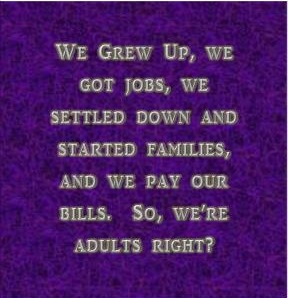 I Cor 13 is one of the most well known chapters in scripture, and we like to quote the "Love is…" portion, especially when we want to scold someone who has been unloving.  But I'm getting ahead of myself.
.
I had a two night series of dreams, and you might say I was issued a wake up call, a challenge and an ultimatum.  It's time to grow up. I won't go into the details of the dreams, they were too long and involved and interpreting them would be interesting but unnecessary.  Let it suffice to say that I was given a verse, and then I was given the bigger picture.  The verse was I Cor 13:11 and the bigger picture was the entire chapter in a context I had never seen before.
.
I Cor 13 If I speak in the tongues of mortals and of angels, but do not have love, I am a noisy gong or a clanging cymbal. 2 And if I have prophetic powers, and understand all mysteries and all knowledge, and if I have all faith, so as to remove mountains, but do not have love, I am nothing. 3 If I give away all my possessions, and if I hand over my body so that I may boast, but do not have love, I gain nothing.

4 Love is patient; love is kind; love is not envious or boastful or arrogant 5 or rude. It does not insist on its own way; it is not irritable or resentful; 6 it does not rejoice in wrongdoing, but rejoices in the truth. 7 It bears all (roof over, protect) things, believes all things, hopes all things, endures all things.

8 Love never ends. But as for prophecies, they will come to an end; as for tongues, they will cease; as for knowledge, it will come to an end. 9 For we know only in part, and we prophesy only in part; 10 but when the complete comes, the partial will come to an end.11 When I was a child, I spoke like a child, I thought like a child, I reasoned like a child; when I became an adult, I put an end to childish ways.
.
I never saw it before, but I Cor 13 describes the difference between an adult and a child.  I will pause here to point out that in our relationship with God, we are called to become as children — it is a recognition of relational hierarchy.  He is the Father, He calls the shots and sets the rules of the house.  Being His children, however, does not give us the right to behave in a childish manner towards others.  We are called to be adults — not in how we see ourselves in relation to Him but in how we interact with others.  Now I don't see a lot of that, I see a lot of folks trying to be adults on equal standing with Him and acting like children with each other — and I don't exempt myself from that criticism.
.
The beginning of I Cor 13 describes all the things we pursue in our own lives to mark us as uber spiritually mature adults, things like speaking in tongues, being prophetic, having great scriptural understanding, displaying great faith, giving generously until we have nothing left to give, and being tortured, persecuted or martyred.  I tell you that even little children can act these things out, any child can do external works, but what children do not know how to do is love as adults are called to love.  And frankly, neither can the overwhelming majority of adults I have ever met.
.
This passage of scripture is not simply about love, it is about defining what are the childish things and what are the adult things – what it is to speak and reason like a child and what it is to speak and reason like an adult.  Once I realized this, I was astounded to see how far I fall short.
.
Adults are patient.  It is childish to be impatient.
Adults are kind.  It is childish to be unmerciful.
Adults are humble and grateful for their portion.  It is childish to be envious, boastful, and prideful.
Adults are polite and gentle.  It is childish to be rude.
Adults are not demanding or controlling.  It is childish to insist on having your own way in the lives of others.
Adults are forgiving and long-suffering.  It is childish to be resentful and irritable.
Adults do not rejoice in wrongdoing.  It is childish to gleefully gossip about the evil deeds and embarrassing moments of others.
Adults rejoice in the truth.  It is childish to reject that which we do not want to believe.
Adults cover and do not expose.  It is childish to needlessly expose those who are already vulnerable.
Adults keep believing and keep doing in accordance with that belief.  It is childish to only believe and do when times are easy.
Adults keep hoping for the best.  It is childish to casually condemn situations and people.
Adults endure whatever is put before them.  It is childish to drop out of the race because the terrain is treacherous.
.
How do we measure up?  Did you do as badly as I did?  It is time to put away those childish things — online, in our congregations and in the sight of the world. To be an adult is to reflect the revealed character of God, to be childish is to look in the scriptures and read everything through the lens of our own character and agendas and act accordingly and assume the great sin of Psalm 50:21 "you thought that I was one just like yourself."  How much of our character, our tone, our mood, and our agendas are we foisting upon God — in essence blaspheming His character by speaking His words in our ways.  Are we depleting His words of their patience, kindness, humility, gentleness, self-control, and mercy?  His words do not return void, but what happens when we make His words ours through presenting them in our childishness instead of His mature perfection?
.
I have often said that I wish people were created with a switch on their back that would preclude them from breeding until they were mature adults.  And the more I learn about His character and how we blaspheme it, I wish there was a switch on our back precluding us from even speaking one of His words until we are mature believers.  Perhaps it would be wise for us to all pray that He would shut us up until we can bring Him honor and stop exposing Him to shame.  I have so very many regrets, we have done Him great evil and brought untold shame upon His Name.