Fruit, from a purely scientific standpoint, exists for one purpose and that is the transportation of seed from one place to another. Fruit is supposed to be mobile.  A bird will carry away a berry laden with seeds, eat it and deposit the seeds far from the original plant.  Humans and animals do the same, we take the fruit, and eat it and the seed goes elsewhere. How interesting is it that it was YHVH's plan that all seed which is eaten is deposited in the earth WITH fertilizer!?  Now that is brilliant planning.  Blessed be His Name.  Yes, fruit nourishes us, but its actual job is to make more fruit by making more trees or bushes.
.
But what is our fruit?  Is it the things we try to do?
.
Look at the tree.  Does it put any effort into making fruit?  Certainly not, the fruit is what happens naturally in season, in response to the external stimuli of heat and moisture.  We are much the same, we are creatures whose fruit will manifest in due time in response to our internal and external conditions.  Fruit is not something we can force, fruit happens — or more often than not, is revealed.  Works, on the other hand, can be forced and faked.  Works are what we do, fruit is about who we really are — and most importantly, it determines the type of seeds we ourselves plant in others, for better or worse.  Are we figs or thistles?  Both of them are full of seeds, chock full of them!
.
What species of fruit we are does not change, but the quality of the fruit can.  Our fruit starts out naturally inferior — Leviticus 19:23 even clearly tells us that for three years you shouldn't even eat the fruit off of a new tree!  It's uncircumcised!  Can I just say how wonderful it is to serve an Elohim who expects and makes allowances for the fact that our fruit will not be immediately good upon entering the Kingdom, that He allows us time to grow?  That is the Father's heart!
.
So why is the fruit of the Spirit love, joy, peace, patience, kindness, goodness, faithfulness, gentleness and self-control (Gal 5:22)?  Because when we are grafted into the tree of Israel, that is the lifeblood that tree should be pumping into us, the very character of Messiah!  It should be changing us, it should be changing our fruit.  Our obedience or disobedience to the commandments will play a big part in how quickly our fruit changes, as will our willingness to be humble and loving and yes, gentle.  We will do mercy, justice, and kindness in the lives of others.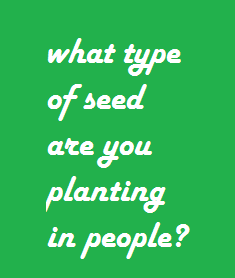 Are we bearing the fruit of Messiah or of the evil one? His fruit will not manifest itself in mercy, justice or kindness.  Messiah's fruit tempers our flesh, while the fruit of the evil one encourages our flesh.  The seed Messiah plants produces good fruit and that 100 fold harvest, while the seed of the enemy sows tares that chokes off the full potential of the harvest.
.
Fruit is who we are and what we propagate, works are what we do.  Works can be fake — but fruit is revealed as soon as it falls into the ground and produces something.  Whatever it produces will show you exactly what it was in the first place.  Fruit can be transported and propagated through works, and fruit can be displayed through works, but flesh-driven works can also obscure our true fruit.  Works committed under great pressure are often the true physical manifestation of our fruit. You see how deceptive works can be, and yet also full of truth?  This is why the Kingdom is not only about works, but also about fruit.  A works focused Kingdom can be an illusion, hence the focus in the Gospels on fruit in partnership with works!  What we do is important, and if we claim that we are loving, joyful, peaceful, patient, kind, good faithful and self-controlled but never show it in our actions — then we do not truly have that fruit yet.  We are still yielding evil or mixed fruit.  Striving for the classic good works (church work, for instance), if it distracts us from producing good fruit (which requires submission to and discipline from our Father in Heaven), is a very deceptive trap.  It seems like the right thing to do, but it is really just for naught if it springs up from a sense of guilt or obligation instead of pouring forth from the abundance of love in our hearts.Better to do nothing now, and spend time growing and maturing towards developing godly fruit, so that we can produce a hundred-fold harvest later, instead of settling for a 30-fold harvest.
.
Torah shows us the works we are commanded to do in order to show love to one another in truth.  But the Spirit is the One who makes it possible for us to feel love towards one another.  Worshiping God in Spirit and Truth is a response to both sides of the equation — be love, don't just do love and don't just feel love, don't neglect one for the other, but embrace both.  Be love.  There is your good fruit, when you can be love.