I didn't get the word that she was being taken off life-support until it was already happening.
.
Honesty time, my first response was guilt because I hadn't been spending much time on my fb newsfeed and didn't even know she had been placed on it three days previously after a long battle fighting breast cancer.  I felt badly because I hadn't been praying as much for her as I would have if I had known.  And when an extended family member announced her death half an hour later I felt such a sense of hopelessness.
.
But then I got a wake up call from God.
.
"Do you honestly think you can honor someone like Bobbi-Jo with your tears?  You don't really know her."
.
It was like being struck with lightning — of course, it was absolutely true.  Bobbi-Jo was a fighter, and faithful, and not given to complaining (which was what my tears really amounted to).  And so, Bobbi-Jo taught me, by example, how to praise God that night.  And I started by stopping the crying, and started smiling and laughing because it was great having lived in a world with someone like Bobbi-Jo, even though I never met her personally.
.
And I started being really, truly grateful that the God of Abraham, Isaac and Jacob was her God.  I was so thankful that she walked with Messiah.  I could see that her death wasn't death, because of Who her God was, is and will be.  I was genuinely happy.
.
Then we found out from her husband that she wasn't actually dead, but breathing on her own.  And that's when the party started.  That's when the music got turned on and many of us just started making a party out of it, praising Him individually in our homes and rejoicing in her life and in her God.
.
Now, days later, she is still alive and fighting.  And I have an entirely new perspective on life.  I have a sense of gratitude for something that never even occurred to me before, to simply be thrilled that YHVH is my God, and her God, and the God of my husband and sons.  And if He is your God I am thrilled about that too.  Really, if we think about who He is, it is a relief that outweighs our everyday worries and allows us to overcome even death and despair with time.
.
Because there is no such thing as utter hopelessness if He is your hope.  There is no tragedy greater than His greatness.  There is nothing so sorrowful that outweighs the joy He promises.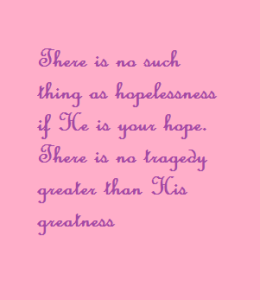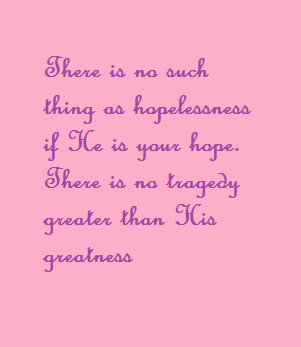 .
And that isn't to say that we will not experience despair, or loss, or tragedy, or persecution, or even death.  But He is our God, and in those conditions He is sovereign, in those temporary circumstances, He gives us eternity.
.
And that is what Bobbi-Jo taught me on the day she didn't die.  I pray that you will join me in praying, and praising God for being her God.
.
Update:  August 18, Bobbi-Jo breathed her last breath this morning in her temporary body, at home, released from the hospital.  She doesn't have cancer anymore, and she will never have it again because the old has passed.  Her next breath will be in a body that knows no decay or disease.  Her next breath will be as the citizen of a world whose King is Messiah.  Her feet will walk and run and dance on the streets of the City of our King.  That was her goal, and she pursued it to the end.  Well done.