So, back in 2006, YHVH told me something I have never forgotten, even if I have not understood it.
.

"Do not suffer to be divided from anyone on the basis of anything other than Christ and Him crucified."
.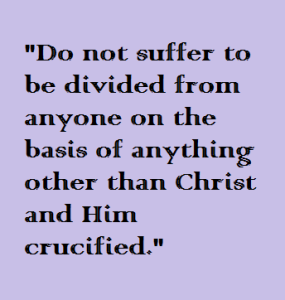 Now, I thought that simply meant that whether I liked it or not, I was bound to all other believers in Yeshua the Messiah. But that wasn't what He said. I know because this week He has been telling me exactly what He meant —
.
"Don't you dare think you have the right to be divisive. Messiah is divisive, you don't get to be, you don't have the right to presumptuously divide the Body based on what you do and do not like, do and do not agree with."
.
I had this dream a few days ago, and it really upset me. I had a test in my hand, and on it were long division problems that I knew were complicated, and I didn't want to do them, and I in fact refused to do them. Well, I woke up quite upset and asked a friend — how can I pass a test that I refuse to take? I could have done all that division, why didn't I just take the test? I love math tests!
.
Her response, "Sounds to me like you aren't willing to be divisive."
.
Oh. A pun. I was so determine to see the dream as an indictment of myself that I missed the pun, which is one of my first rules for interpreting dreams — look for puns and plays on words. Yes, it was a test, and I recognized that the situation was complicated and I refused to be divisive. It was after that, that the Word from YHVH came back to me and I finally understood it.
.
You see, there will be division in the Body, and people will divide from me based on this or that thing — and that's on them. They might decide they disapprove of my saying Yehovah instead of Yahuah or Yahweh, and they might divide themselves from me even if only in their hearts, They might disapprove of my keeping the first sliver calendar, and they might divide from me, even if only in their heart. They might come up with reasons why they figure I do it and then judge me based on those reasons. And that's on them. That is their choice, to be divisive. They may never say anything, but even if they put up an internal wall against me based on these issues, they have acted divisively.
.
Did you know that the second day of Creation was the only day where nothing was called good? On that day, only division happened. At the heart of any division problem is the denominator, which is not the number that is divided, but the number which divides. It has the same root word as the word "denomination" and it is not unique to Christianity. Judaism and the Messianic movement also have many denominations. Sadly, I have found that these denominations result because we do not want to focus on the major issues, but instead get hung up on the minors – generally the things we can't prove, things that are either mentioned only once or eluded to or which are not based on scripture at all.
.
And that is the very heart of division at the personal level. If I want you to agree with me more than I want to find out how to agree with God, then that is simply a form of idolatry. Perhaps we could strive to humbly look at people and say, "I wonder why they believe that?" instead of "How can they believe that!" They believe because they believe — and as my dream said, it's complicated.
.
I have spent too many years being wrong on things now to waste my time dividing over issues I may not fully understand. We have all been desperately wrong about so much, and we will always be wrong about things.
.
Matt 10:34 – 36 Think not that I am come to send peace on earth: I came not to send peace, but a sword. For I am come to set a man at variance against his father, and the daughter against her mother, and the daughter in law against her mother in law. And a man's foes shall be they of his own household.
.
So we should not suffer to be divided from anyone based on anything other than Messiah, and Him crucified. Let Him create His own divisions.  He brought the sword, and on that night in the garden, Messiah showed us what happens when we wield our own swords without waiting for His permission — He ends up having to fix the mess we create.
.
Luke 22:49-51 When they which were about him saw what would follow, they said unto him, Lord, shall we smite with the sword? And one of them smote the servant of the high priest, and cut off his right ear. And Jesus answered and said, Suffer ye thus far. And he touched his ear, and healed him.
.
Division will come to us, it doesn't need our invitation.  There will always be plenty of people who bring it to the table — who say, "You can't worship with us if you believe or say such and such."  And that's fine, they brought the division, and we honor that division by acknowledging it and separating ourselves from them.  But we are not to cause it ourselves.
.
Titus 3:9-11 But avoid foolish questions, and genealogies, and contentions, and strivings about the law; for they are unprofitable and vain. A man that is an heretick (aihretikos, meaning schismatic, divisive) after the first and second admonition reject; Knowing that he that is such is subverted, and sinneth, being condemned of himself.
.
At the end of the age, the wheat will be separated from the tares and the sheep from the goats, by Yeshua.  Until then, we are to avoid divisive people and by definition, refuse to be divisive ourselves over this or that pet doctrine.  Rejecting a divisive person is not causing division, it is quite simply acknowledging and protecting ourselves from the sin of it.