Two days ago I fell into a very deep depression seemingly out of nowhere, and have been praying and pleading to know why ever since. I was pulling weeds out in the backyard last night and for a change no neighbor dogs were barking at me so I could actually do some thinking. I love my son Andrew more than my life, but I am going to pee on the third rail of special needs parenting here — I am going to admit one of the heartbreaking things about it. Our kids aren't always accurately represented by the overachievers and over comers we promote in order that people won't judge us for the decision we made, and in hopes that people won't get abortions based on the realities we face daily, when they find out Suzy isn't going to be all they wanted her to be physically and mentally. We know the rest of the truth, that they are wonderful and valuable, but we're also scared, and a few enjoy being martyrs. Anyway, this isn't about that — this is about something the parents of normal children also go through, but when your child is special needs the heartache it causes is amplified. And so for the last two days I have been in a deep depression, not realizing that it was a divinely inspired depression in order to show me a great truth.
.
What do you do when your disabled child is capable of more than they are doing, but decides that because they can't do it perfectly, they use it as an excuse not to try at all?
.
Our greatest moments of triumph are when our children exceed everyone's expectations and prove that they CAN do something.  It is the greatest high imaginable — and some kids never look back and go even further, above and beyond — those are the ones you see on youtube and on the news as inspirational stories. Everyone loves those stories. But our greatest moments of sorrow can be when they stop trying, and go back to how they were, just giving up entirely, sometimes even refusing to take care of their basic bodily needs — even though they are absolutely able, sometimes even after they have received much healing in that area.
.
Its a picture of ourselves, with God, and God had to allow me to experience His grief as He watches us fail to even try to live up to His standards/laws because we can't do it perfectly. It's as though we are that disabled child, and we absolutely are, using our disability as an excuse to not even try to do the things we are currently able to do, and refusing to work on those things that are indeed achievable. Our disability isn't merely physical, or mental, it is our desire for sin.
.
It's our desire to do what we want to do on the Sabbath, or to eat what we want to eat even when it is not food, or celebrate how we want to celebrate even when we are perfectly able to do things the way He asks us to do them. It's when we don't even try, that breaks His heart — because He, despite being all powerful, is powerless to force us to want to do things His way. I understand that anguish and frustration on a very small scale. I have a child who calls me mommy and tells me he loves me and wants to be close and snugly and wants the perks (blessings) that come with being my child. But I can't give him all the blessings I want him to have because I cannot encourage him to keep disobeying me and destroying himself. I have to discipline him instead of giving him gifts. In Biblical terms, I have to curse instead of bless — can you begin to see how much this would hurt me, day after day, year after year?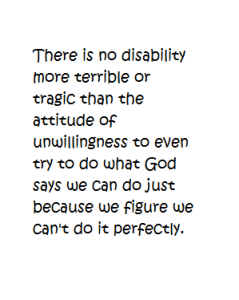 .
I know, with his innate sweetness, that if he could really perceive my pain, that he would change his ways. But right now, for whatever reason, he cannot see beyond himself and sometimes it just kills me inside.
.
What is "God's own heart?" God's heart is to bless and not curse. Even His cursing was designed to drive His children back into the place where He could bless them, the prophets were sent to warn His children back into the place where He could bless them. We have a Father who wants desperately to bless us, but we live in a way that He cannot encourage and so He cannot give us the fullness of what He desires for us to have.
.
Oh there are so many things I long to do for my child, places he could go without me and things he could do on his own, privileges I could allow for him to have. But his behavior gives me no choice. I cannot reinforce it, because his behavior is dangerous to himself, he just doesn't have the maturity or desire to see it. I never saw it either, not for many years as I called myself by His Name but lived life my way. I said that it was impossible to live His ways perfectly, so why even try at all — completely missing the point of His laws, His house rules. His laws were there to teach me how to live righteously, how to move towards greater and greater levels of loving Him and loving my neighbors. Yes, I have a righteousness of God through Messiah, but that isn't the same as living righteously, which has to be according to His definitions — so that I can live in harmony with Him and others. So that He can give me the blessings that He wants me to have.
.
The blessings that it hurts Him to have to withhold.  Because, unlike us, He isn't an enabler and as He sees the beginning all the way to the end, He knows what the stakes are, even if we try to ignore them.