This will be a second of three posts about adoption, a special sort of parent -child relationship chosen by Paul to describe our collective Kingdom membership.  As in the last post, I will be drawing on what He taught us through our own special needs adoption of newborn twin boys.  I do not compare our conduct to God's or ourselves to God in any way, but it is my intention to demonstrate what the adoption relationship, and the price paid, looks like from the parental point of view.
.
As I mentioned before, our adoption was contested by the birthfather, a convicted felon, and before it was over, our legal fees came to more than our house was worth.  We were not wealthy people by any stretch of the imagination, but we had overwhelming assurances from God that this adoption was His will, and so we did what we had to do in order to make sure that Matthew and Andrew were legally ours.  The only thing we physically had to contribute to the process was our money, but it was the price that had to be paid.  Years ago, we shared this information with them, wanting them, for better or worse, to see how valuable they were to us — but they instead took it as guilt upon themselves, that the cost had been too high.  They just couldn't understand what it means to be a parent and to snatch your children out of danger.  But on Saturday night, that all changed as God finally gave me the words to express His heart and His own sacrifice.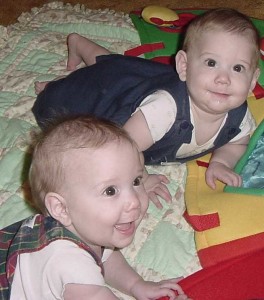 I got out a photo album of the digital pics I took of the boys daily during the first 15 months of their lives and opened it up as we sat on my bed.  Then I began to tell them the part of the story I had never told them.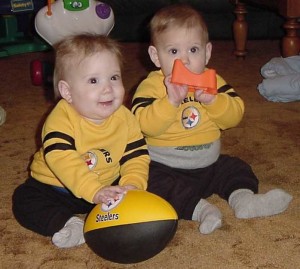 "In Wisconsin, where you were born, they have a bad adoption law on the books.  It says that adopted kids can't live with their new mom and dad until the adoption is finalized.  So you wouldn't have gone home with mamma Stephanie or with anyone else who loved you, you would have been sent to a foster home until you were almost 16 months old.  I'm sure they would have been kind, but they wouldn't be your parents, they would have simply taken care of you and loved you as best they could, knowing that someday you would be taken away.  And you would have thought of them as your parents only to have been removed later.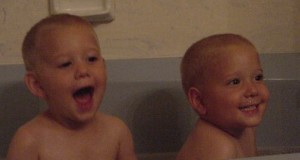 You see all these pictures?  I took these pictures every day, and I sent them to everyone who loves you — our family and Stephanie's family.  I know you look at the price we paid, and that you feel guilty about that and you say that we could have been rich if it wasn't for you, but that isn't true.  Yes, it cost our retirement money and savings, but you don't understand what we bought — we bought a relationship with you from the moment you were born until the day your last name was finally Rosenquist.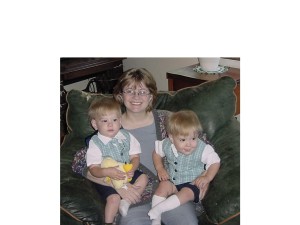 All that money we spent, well a lot of it we spent on a miracle.  We spent it fighting for the right to be your foster parents, even though we lived out of State.  God had the judge set a new precedent, and we got to take you home.  She even had you declared legally ours before you were born, which had never happened before.  That money bought us relationship, relationship that means more to us than you can possibly imagine.  Each one of these pictures you see cost thousands of dollars, but is worth millions to daddy and me.  We bought those memories of you growing up, we bought the privilege of being the ones in the hospital for Andrew's surgeries, we bought hearing your first words and seeing you roll over the first time.  We bought something better than a cushy retirement, we invested in something permanent, something better than gold or even our own lives.  We bought the right to help shape the kind of men you are becoming.  We redeemed the days, because it was worth it to be your parents.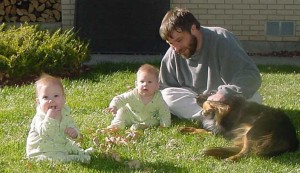 You know, I could spend a lot of time feeling guilty about the price God paid to adopt me, the blood of Yeshua (Jesus).  The god of this world owned me, just like the state of Wisconsin believed that "T" owned you.  And God our Father fought for me, even more than we fought for you, and He gave something more precious to Himself than my money was to me.  He gave His own Son, His only Son. There is no one I love so much that I could give your life for, but that's the price that God paid for us.  And He didn't do it just to be the boss, any more than we gave our life savings to become your bosses.  God gave Yeshua because He wanted a relationship, He wanted to buy all those days, like we bought all your days.  He didn't do it to just be God, because He already was God.  He did it to be a Father to a child, me.  And He did it to be your Father too.  He wanted to be the One to shape the people we are becoming, day by day.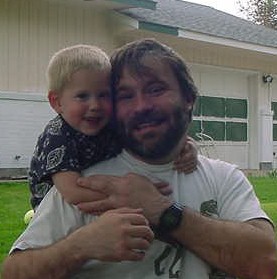 Yeshua's sacrifice was the best He had to offer — all we had was money.  You were worth our best, and it's obvious that God feels like we are worth His best.  It's proof that God holds relationship as higher than anything else.  It's proof that He truly desires to be our Father, that He wants to be the One who decides what ind of people we will be."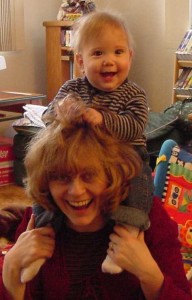 I think that, for the first time, my kids saw our money spent as an investment that reflected the importance of relationship.  I know that, for the first time, I finally saw Yeshua's blood spent as a reflection of the same thing.
.
As we are commanded to redeem the time, because the days are evil, the Father has lovingly and passionately set the example by redeeming our days — before there were even any days to redeem.