Perceiving God as Small: Majoring in the Minors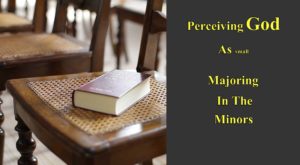 What does it mean to perceive God as smaller than we are? To see ourselves as huge and Himself as small?
Why do kids so often walk away from the faith when they walk out of the house? It's very simple – we as parents don't generally understand the purpose of Scripture. We have historically never instilled into them the idea that the Bible is a revelation of the character and nature of God – even though we think that's exactly what we are doing. We impose rules and regulations, yes, but those were only ever meant to be the basic outer boundaries of decent behavior towards God and one another – the milk we feed the babes on – while we starve for the meat of being conformed to the character of God while we use the Bible for other, more self-serving, purposes.
What we have actually done with the Bible is abominable – we have used it as a tool of self-justification. Before anyone thinks that this only applies to unbelievers or "other denominations" let me make it clear that it is across the board and coming to Torah doesn't change it for people – because it is a cultural paradigm. We were raised this way, it is a carefully trained blindness rooted not in religion actually, but a natural dislike and fear for anything that is different – especially anything that is a challenge to self.
We memorize verses that fit our doctrines, and those are the verses we teach to our kids – not that they will use them to worship and adore God, but so that they will follow the correct doctrines. We want everyone to do things the way we do them – otherwise, our foundations are challenged. Although we may claim to be zealous for God in defending our doctrines, generally it is about ourselves and wanting to be right.
We want to be right when we talk to scientists, so we turn the Bible into a science book when God never revealed Himself to man in order to teach science (I mean, what kind of a waste of time would that be and would we even be able to begin to understand science through His eyes?). The Bible becomes not about preaching the Gospel of God's deliverance, but about overcoming the Big Bang Theory and Evolution, theories that by their very nature cannot be proven nor disproven (and I am speaking as a degreed chemist here – one who still loves science, in fact, and first saw God in the perfection of the periodic chart). In our hands, the Bible becomes a tool for justifying what we believe because in our heart of hearts we as a whole are embarrassed and seek to justify what we believe on the scientist's turf. So we take the Bible over to them, we use a revelation of God's character, written in Ancient Near Eastern and First Century context, and twist it into a scientific manifesto for our own purposes. Of course, science is only one of the areas in which we do this.
Now, our kids go off to college or into the world, and they often have only been indoctrinated with memory verses and Torah portions for the express purpose of making sure they believe the right stuff and associate with others who believe the right stuff. Some clever Science or Bible professor who knows more about the Scriptures than the parents brings other verses into the mix, and the now grown-up child who was only trained to justify doctrine now has a terrible quandary. The Bible was misused, it was treated as a tool for self-justification under the auspices of defending God, but it was honestly just being used for defending denominational doctrines.
All someone has to do is bring down one questionable doctrine and everything tumbles. They were trained in doctrine and had tied them all together and had mistaken doctrinal knowledge for a knowledge of God Himself. God was made small, and doctrine was made huge.
I rewatched a movie this weekend called Temple Grandin – although some parts are largely fictionalized, it teaches a powerful truth about perspective, and how we see things. I have been meditating upon it ever since because we have a very skewed perspective of our lives – we are always very large, and by and large we make God very small (yes, I do it too). We make doctrines big, and God small.
We do this through living lives of fear and self-justification – and we mask our self-justification as righteousness in many ways. It is easy to see self-justification when it is used to excuse sin – but it isn't as easy to see when we have camped around a small doctrinal issue and have made it big.
Case in point. Two people are in a room talking about God – they both agree that the God of Abraham, Isaac, and Jacob is the one true God and that Yeshua is the prophesied Messiah. They believe in the validity of Torah. They keep the Sabbaths and the Feasts.
Pause for a moment and look at how much they have in common, it is huge in this life to meet someone who has those things in common with someone else. They ought to be worshiping and thanking God to meet such a person, right?
They get talking and find they disagree about the way the name is pronounced, or about whether the six days of Creation were or were not literal 24 hour days, or when the day or month begins and ends, or how to keep a certain commandment or whether a certain tradition is pagan, or whether we are all literal priests now. Just choose one of those things and watch what often happens:
Believing in the same God becomes small, and the point of disagreement becomes huge.
Believing in the same Messiah becomes small, and the point of disagreement becomes huge.
Believing in the same Torah becomes small, and the point of disagreement becomes huge.
Believing in the same Sabbaths and Feasts becomes small, and the point of disagreement becomes huge.

And suddenly, that "other" person is judged not based on these huge pillars – but upon opinions, which sometimes amount to nothing more than matchsticks waiting to kindle an unrighteous fire of division between brothers. And each side in the argument credits their stance and that judgment with zeal and righteousness – and both sides are deceived – because it is almost never a righteous zeal, it is ego and the defense of self and of one's own way of doing things. It has nothing to do with God and everything to do with self. If the zeal were righteous, there would be respect, kindness, patience and love instead of division, derision, and even hatred.
That right there – that is a picture of the First Century and what was going on with the Jewish factions, and a large part of why they hated each other so desperately and were so divided. That was the context of the coming of Messiah the first time and a big part of the reason why He was murdered. The Jews didn't kill Messiah – perspective killed Messiah, a perspective that many of us show we still share today. The revelation of God's character was made small, in a culture that professed to live for Him wholeheartedly. We are as they were. Interestingly, the Jews grew up and figured it out and are now working together to rebuild the Temple. Groups that are radically different are coming together in love and respect to build an earthly throne for the God we all agree is the One True God and Whom we all agree should be worshiped with one voice. But here we are, arguing and divisive – and our kids are walking away from God because we lack perspective and major on the minors. I submit that most of our kids aren't actually walking away from God because they were never really walking with Him in the first place, not if all they know is doctrine and memory verses. Doctrine and memory verses devoid of inner transformation and the production of mature fruit – they can be cold companions when the times really do get tough.
Make God big and allow everything else to be small. Make His character huge, and let other things be small. If we reflected God's character, for real, most of our kids wouldn't be able to bear walking away – because there would be nowhere else worth going. Doctrines are easy to drop, but truly godly character, humility, and a love for others borne out of keeping life in its proper perspective is hard to walk away from.
I want to share the part of the movie that introduced the focus of perspective