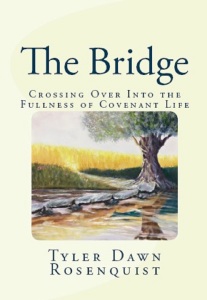 In celebration of the release of my new Bible context Homeschool/family curriculum, Context for Kids, I am giving away The Bridge again. All of the instructions (I have over 4000 successful downloads based on them) and all the links work. Everything you need is here.
No Kindle required – all you need is any online device – PC, Mac or android!! Read all the instructions, the links are in blue. PLEASE read all the directions as I will not be able to help you. Absolutely everything you need is here.
If the country you live in has an amazon platform, this is available to you but my links will only work in America. Just do a search for my name – Tyler Dawn Rosenquist and you will see the book listed.
So what is The Bridge?  The Bridge is a book that spans the gap between 1st and 21st century Christianity, sending the reader back in time to the faith once delivered to our fathers, so that we can understand what they understood, and see the Kingdom as more of a family instead of a religion.  If you ever wanted to explain to anyone, in very simple and non-threatening terms, why you believe what you believe – this will help you.  Why does God describe Himself as Father, King, Master, Husband?  Why does He call us to become child, ambassador, bondservant, and bride?  What do those relationships teach us about His promises and expectations?  The Bridge:  Crossing Over Into the Fullness of Covenant Life is a book designed to explore those relationships and restore you to path that leads to the intimacy that we were always meant to have with our Father.
If you want the book for free, or want to update your old copy:
1. If you already have it, and it is not updating for you to the new cover (that's the easiest way to know if it is the new one) contact Amazon here https://www.amazon.com/gp/help/customer/contact-usand they will fix it for you, have them give you a call.  I got my copy fixed in like a minute.
2.  If you don't already have it, and you already have a kindle or the free app, just get it free here or do a search if you are from another country on your respective amazon platform.
3.  If you don't have a kindle, download this ap first on PC, Mac, or android.  When that is done, download the book, but make sure you do it before midnight PST on Oct 4.
You can also buy it in paperback here if you are like me and hate reading things on Kindle.
You can help me by getting the word out about the free offer, and once you have read it, I would appreciate reviews. If you like The Bridge, then check out the sequel, written from the Ancient Near Eastern and First Century Perspective – King, Kingdom, Citizen: His Reign and Our Identity, which proves our rights to Citizenship in the Kingdom of Heaven through Messiah.