So why did I call it The Bridge?
.
To be honest, I didn't really know until last night. All of a sudden the title was bothering me. I was saying, "Well am I calling this book THE bridge, like it is the only way across?" And it was upsetting me, greatly. I had received the title through prayer but never gave it that much thought.
.
And so, very grieved, I started praying. Was I exalting the book, was I exalting myself? What does this title say? The answer was a relief.
.
"No one stays on the bridge."
.
And I laughed. You see, I don't want to have a fan base. Everything I write, I write with the expectation of helping you get from where you are to where you need to be. If I even have a ministry, it is a ministry of making myself unnecessary to people. I want people to stop needing what I write, because they get so close to God that listening to me would be going backwards. I am not a teacher, and I never will be. I just try and strip people of the bad and point them in the direction of the good. I try to be a bridge. And no one stays on a bridge. A bridge has a function, it takes people from one place to another. The bridge isn't a destination, a bridge serves a purpose on a journey. The focus is on what is ahead, and what is ahead should be a deepening relationship with the Creator. As long as anything I write can serve as a bridge, I am glad to help, and once it can't, I am glad to simply be your sister. But I don't want you to stay on the bridge. You will starve if you stay here, hoping that I or anyone can support you forever. I don't have that kind of strength or talent.
.
We are all bridges, hopefully pointing in the right direction, and so we have to stop treating what we do like a destination. We are more like scenic attractions. Pretty or ugly, but not where anyone wants to spend too much time. In order to stay on a bridge, you have to decide to stop walking, but there are better things ahead, so don't stop. Your destination will not be reached in this lifetime.
.
I guess if I wanted to build an empire, I should have called it "The Bench:  A place to sit and stay and give me your attention and money."
.
Here's the deal, some of my facebook friends might remember the morning of March 3, 2014.  My husband Mark had a dream — he was told "Unless Tyler starts writing, you are going to keep going through the same things over and over again."  I was confused.  I write every single day, I love writing as long as the Spirit is partnering with me. Writing uninspired is like swimming through wet clay.  I shared my dream and then went into the tub to pray and meditate and while I was praying I knew I needed to write a book for Christians, a book that was loving and would clear up all our misunderstandings about God's character and what it means to our walk with Him.  I had no idea how to do it, but I just went to the computer and started writing, and on the first day I wrote like 2,500 words.  I started with the introduction and wrote the first few chapters.  And then I ran out of words, so I stopped.  I went to bed that night and prayed for a few hours and said, "Father, I have no more words, I don't know what to write tomorrow.  If You want me to write, You need to fill me with words."  I went to sleep and in the morning, before homeschool began, I wrote another 5,000 and then suddenly I was empty again.  By this time I realized that I hadn't been eating, and had no desire to do so.  I prayed again that night and the next morning I think I wrote something like 6,000 words and every day it was the same, but more and more words each day.  One day I wrote 10,000 words.  On thursday night, I realized that without eating and with still having to homeschool, I needed to not write anything on Friday in order to get caught up and so I asked Him for a day off.  I woke up in the morning with nothing to write, and I was able to do what needed to be done before the Sabbath started.  Of course, on the Sabbath I didn't get anything to write either, because that would be work.  But that night I asked again and by the following Friday, I had written 58,000 words, just 2,000 short of the industry standard for similar books.  And I stopped getting any more words.  During that second week, Father told me to get a hold of Darlene Dine, who I barely knew, to do the cover artwork.  She asked me what I wanted it to look like.  I am embarrassed to show you my drawing.  Feel free to laugh.
.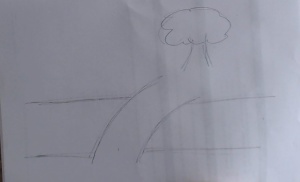 Be grateful she has more talent than I do!  God knew what He was doing!  And now I have this precious wonderful sister who I love to death.  And the original hanging on my wall to look at while I homeschool my boys.  You can't tell from the digital, but it looks 3D, no kidding.  It's stunning and I love it more each day.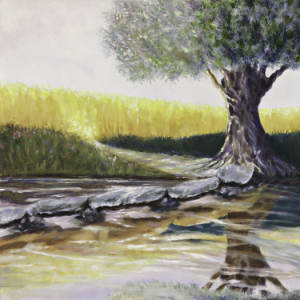 Funny thing, for the 9 days of writing, which amounted to 11 days of the fast, I lost almost no weight, I was never dizzy, I wasn't even cold in one of the coldest Minnesota winters on record.  I was absolutely clear-headed.  It was very strange indeed.
.
Not having any words, for the larger part of two more months, was disconcerting.  The book was done, but it wasn't finished.  I knew it.  Truth is, I have finished the book three times, once in May (on the same day that Darlene finished her painting), again in July and then last Tuesday.  What God did between those times was very excruciating as He went to work on my character flaws, the ways that I misrepresent His character.  And then I would periodically go through the book and remove my character flaws from it, the things I had added to what He wanted me to say.  At His direction in early June, I submitted it to WND, knowing it was not a good fit for them.  But the waiting worked more kinks out of my character, as did the rejection in July.  So, more editing.  And then I heard a series of teachings by Ryan White that gave fuller meaning to what the book already said, things I had written but I didn't have full understanding of.  It's funny, Rico Cortes laid more of the foundational groundwork for this book than anyone, and it was his student Ryan who nailed the last of the shingles into place.  In between, Bill Cloud helped me build doorways and windows, instead of just walls — showing me how to be merciful, diplomatic, loving and more humble.  This book was a group effort, even though none of them knew it. They served as bridges for me.  They helped me understand the character of my King, and it was Rico who got the ball rolling when he taught me about the loyalty I owe to my King.  It changed me profoundly.  Ryan's teachings on Honor and Shame and Patron/Client Relationships served as a pair of glasses that focused everything.  Bill taught me that we don't have to be cruel or arrogant to be resolute.  Each one of these men taught me that the truth is enough, and just because we are right, doesn't make us right (thanks to the wise and beautiful Mrs Cortes for that one).
.
The Body has to change.  We have to start being bridges for one another.  And that means we need to take care of our own bridge first.  We have to fix the holes in our understandings, and make sure the supports are sturdy, we have to remove the stumbling blocks of our character flaws and sins.  Then we will provide safe crossing for others, as others prayerfully provide safe crossing for us.  It isn't about us, this is a group effort, everyone doing their own job no matter how small or insignificant they mistakenly believe it is.  There are no small jobs in the Kingdom, there are only jobs that get done and jobs that don't get done.  When we contemplate that all the jobs are part of God's plan, things start looking a whole lot different.
.
So I am getting a lot of requests for a book in paper form, or audio, but this has been a strange process and I didn't even know until Tuesday afternoon that I was going to be putting this on Kindle.  This has never been my book, or my project.  I won't budge from this spot until He tells me what to do and then I will jump as high as He wants me to jump.  But for right now, the book is on Kindle, I am not promoting it.  I am being a mom and a wife and a blogger.  Being a wife and a mom are the most important things, those are my covenant responsibilities.  This book is His to watch over.  If He wants it translated into 70 languages He will make it happen.  I know that He will let me know what to do.  Or maybe it is already in the hands of the only 880 people who need to see it.  Yeah, I worked my butt off, but it isn't mine. Every bit of this book, I pray, points towards Him.  If I don't let Him call the shots now, I will be the biggest fraud I have ever known.  I trust Him to work this out.  After all, I am an entirely different person now that I was on March 3, and for that reason alone I have to stop doubting He is enough.