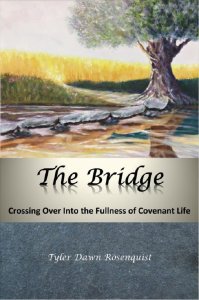 9/26 Well, I am extremely gratified by the first day's response, the Book ended up peaking at #3 and #4 on the free Kindle categories for Christian Living: Spiritual Growth and Christian Living: Personal Growth, #12 in the entire free Christian Living section and is currently in the top thousand free Kindle books across all categories.  Thank you for all your shares, thanks to whoever reviewed me (it really helps!) and I pray this will continue to spread throughout the online community of believers.  This happened because you all worked to make it happen, and because of God's grace — for all intents and purposes I am unknown. I don't have a ministry, and I don't want one — I am not trying to build a power base.  I am just a blogger mom with a story to tell about our Heavenly Father's character as revealed through Messiah.
************************
My first book is now published and available on Kindle, available for free from now through Saturday.  The best news is that you do not need a Kindle device, just a computer or android along with one of these apps for PC, Mac, or android..  There are currently no plans to produce hard copies, although that might change in the future.  So please download it and I would appreciate your reviews.  The more downloads and positive reviews I get, the better the chance of being picked up by a publishing house.
So first, download the free app and then you can go to amazon and download the book.  And although it does not allow you to give it as a free gift, you can send your friends and family the link, and they can have it for free as well.
What is The Bridge about?  It is a Christian book that explores the foundational principles of our relationship with God, step by step, drawing on familiar concepts like Father/child, Bridegroom/bride, King/ambassador, and Master/bondservant.  If I were to call it anything, I would call it primarily a book about God's character and what His character means to us, how it should define our relationship with Him.  From the writings about and revealed character of Yeshua (Jesus), to the writings of Moses, Paul and Peter, I lay a case for the validity of the whole Word of God from Genesis to Revelation.  It is my fervent prayer that this book with fill you with a passion, not only for Messiah, but for our Heavenly Father, and I tried my best to clear up many of the questions that people have about Who He is and how perfectly He loves us.  I want you to know what it means to love Him with all your heart, mind and strength, and how to love your neighbor as yourself.  I want you to hear the words, "Well done good and faithful servant."
Thanks for your support and thanks for sharing!